What an epic Christmas trip we have had. The highlight for me and for many of our guests I'm sure was on Christmas Day itself. We were at Cabo Pearce, on Socorro Island, a lava finger which extends from the island and continues into the ocean for several hundred metres! With sheer walls on either side of the finger and impressive rock formations along the top it is a truly remarkable site in terms of it's topography. Sometimes Cabo Pearce can be prone to strong current and choppy surface conditions making for adrenaline-fueled drifts, but on Christmas Day the sea was very calm and we had almost zero current all day!
On all three dives there were mantas for the entire dive and Hammerhead sightings also. There was also a Tiger shark for a couple of groups and some managed to snorkel with dolphins for several minutes after one of the dives.
However the mantas stole the show. With up to 7 on one dive, and both colour morphs of Chevron (Dark back and white belly) and Melanistic (Black on back and belly). The mantas were demonstrating all kinds of behaviour. They would take it turns to go to the cleaning stations, feed on or near the surface sometimes barrel rolling in mid water when they found an extra plankton rich area of water. Sometimes they would dance together and we even saw courtship displays! There was one individual who was lacking a tail and she would come again and again and stop just above us and swim with us to enjoy the bubbles tickling her belly. It was truly amazing!
Happy Christmas and Happy New Year to everyone.
–DM Martyn, the Nautilus Belle Amie
---
I must say this last trip was full of excitement for everyone. The marine life was amazing and we managed to get one incredible dive at the Boiler yesterday before having to relocate and change dive sites due to weather conditions. Guests were amazed and very satisfied after the last dive at Las Cuevitas and the steak dinner prepared by Chef Pibe was off the charts. I was personally very pleased with the diving after having had 2 different Tiger shark encounters and numerous Scalloped Hammerhead encounters.
The mantas, as per normal, are at the top of the game and they have always made their presence an intriguing and unique experience for all divers in the water. Today we will take down the Christmas tree and put up New Year's decorations and I am sure tomorrow will be a very busy day in port as we handover the boat to the incoming crew and we head off for our time off. I look forward to another month of adventure with Nautilus in February!
–DM Aldo, the Nautilus Explorer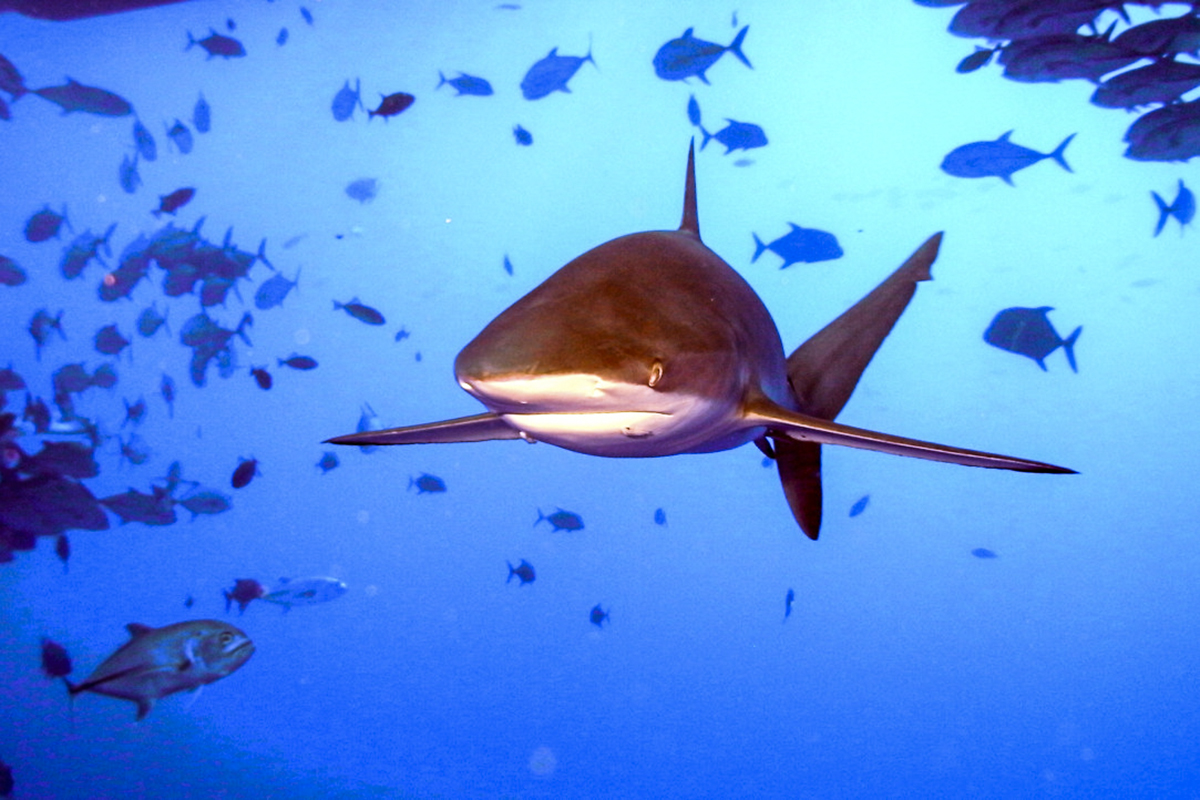 ---
Today we had a beautiful and relaxing dive at Punta Tosca. Nice visibility with the wonderful topography of Punta Tosca. Loads of sting and torpedo rays, as well as juvenile silvertip sharks. The best part of our dive was during our safety stop when a dolphin approached to our group, put itself in an upright position, moved its tail and breached few feet out of the water. What a show! We were super excited when we came out the water.
–DM Ari, the Nautilus Explorer
---
What an amazing week with people from as far away as Israel and Japan and what a wonderful week we all had "dancing" with the mantas. We even had a Black Manta come to a complete stop just bathing in our bubbles – AWESOME!
–DM Darrin, the Nautilus Belle Amie
---
Today was our first day of diving on our New Years trip. We have welcomed guests from the Mexico, U.S.A, Canada, UK, Germany, Korea and Sweden. We headed to Fondeadero and el Canyon and split our time between the two sites for our 4 dives.
We saw chains of 3 mantas and up to 6 individuals on a single dive. Hammerhead, silvertip and silky sharks and loads of whitetips too. There was also a school of Hammerheads seen on the last dive too of 11 individuals. But the highlight for me was the Tiger sharks we saw. My first of the season and my group was lucky enough to see two in the same day. The first was a younger shark, maybe 8ft long, with very distinctive striped markings. It came very close only about 4-5m away amazing. Then on the last dive as the sun was setting at a deep cleaning station. We had just seen a school of Hammerheads swim by and were all celebrating whilst trying to stay close to the reef as there was a bit of current. When behind us out of the blue came a huge monster of a shark which has to be the biggest Tiger I've seen to date. I estimate around 12ft but exceptionally heavy set so I presume either a pregnant female or a very well recently fed shark at least! She didn't come so close but she dwarfed the hammerheads we had seen moments before which were fairly sizable at around 7-8ft!!!
Seeing more and more tigers every trip it seems not to mention more Oceanic Black tip sharks and Dusky sharks too! Can only mean good things for the shark populations around the Archipelago. Tonight we head to Roca Partida and will be waking up next to the "Rocking Rock!" Hope it's got some more New Year treats for us tomorrow!
–DM Martyn, the Nautilus Belle Amie
---
Happy dives, happy guests, happy boat, this is the Nautilus Experience, it doesn't matter if you work here or if you are a guest, this ultimate experience is amazing. It is just insane how wild animals interact with you, and how many guests leave with a big smile in their face, this is why we do what we do, to make guest happier and show them what the diving looks like on these extreme islands. The encounter I had this trip with the dolphins, never never in my life am I going to forget it! I can't wait to come back and visit them again.
–DM Luis, the Nautilus Explorer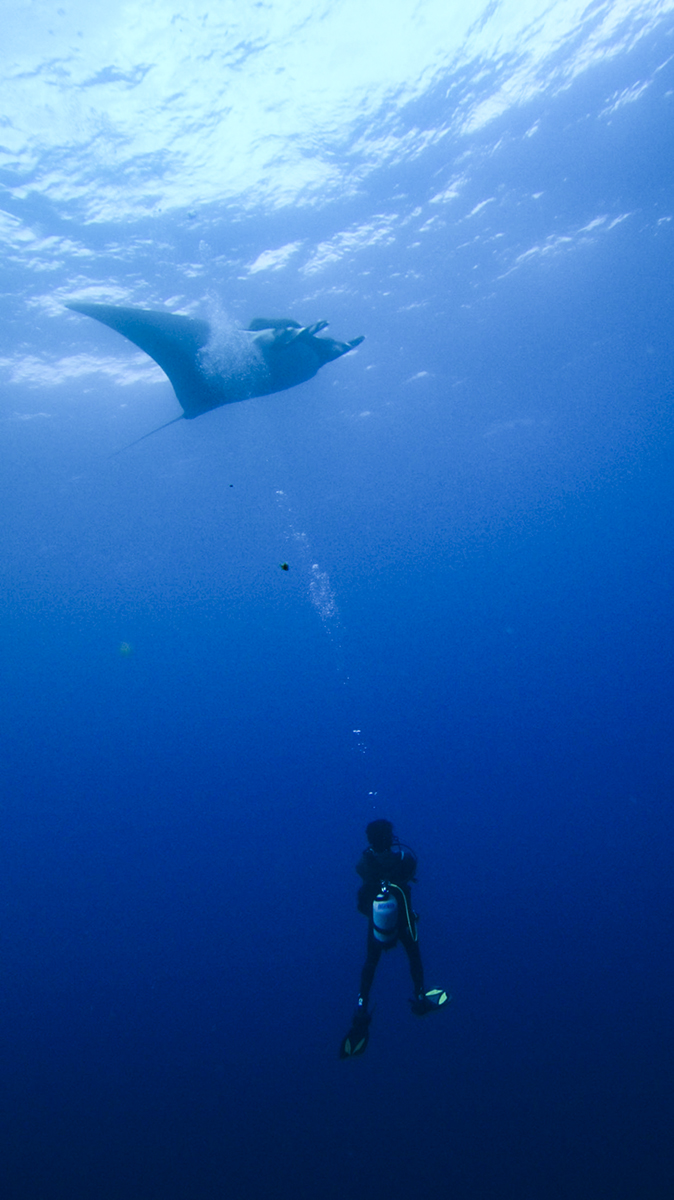 ---
We dove the Fondeadero on our first check out dive and visibility was really good. We started on a sandy bottom with some rocks around about 60ft and we spotted big stingrays. Swimming toward the cleaning station we passed 3 giant mantas in a straight line, it was awesome. Then a black manta approached us and stayed with us for the whole dive.
–DM Pedro, the Nautilus Belle Amie
---
Cabo Pearce on Socorro Island was our dive spot for today and is the venue for our adrenaline-fueled silky snorkel tonight! It really has given us a treat today and has definitely and has been very hot every trip so far this year. We had fantastic manta encounters on each dive and sometimes they lasted for the entire dive. We had moments in strong current all hunkered down to the reef like well trained Navy Seals with mantas almost suspended above us for what seemed like forever. Enjoying the same current effortlessly as we sheltered ourselves from it. Circling again and again to do the same as tens of Clarion Angelfish (an endemic and very beautiful cleaner species we get throughout the Archipelago) went to work! We had up to 4 individuals at the same time!
Forget the mantas for a second, as we also saw Hammerheads, up to 10 together in small schools, a Tiger shark siting, large Galapagos sharks and dolphins on two of the dives at Cabo Pearce. There are already tons of Silkies around the boat as we eat our dinner so I'm pretty sure it's gonna be a good snorkel!
–DM Martyn, the Nautilus Belle Amie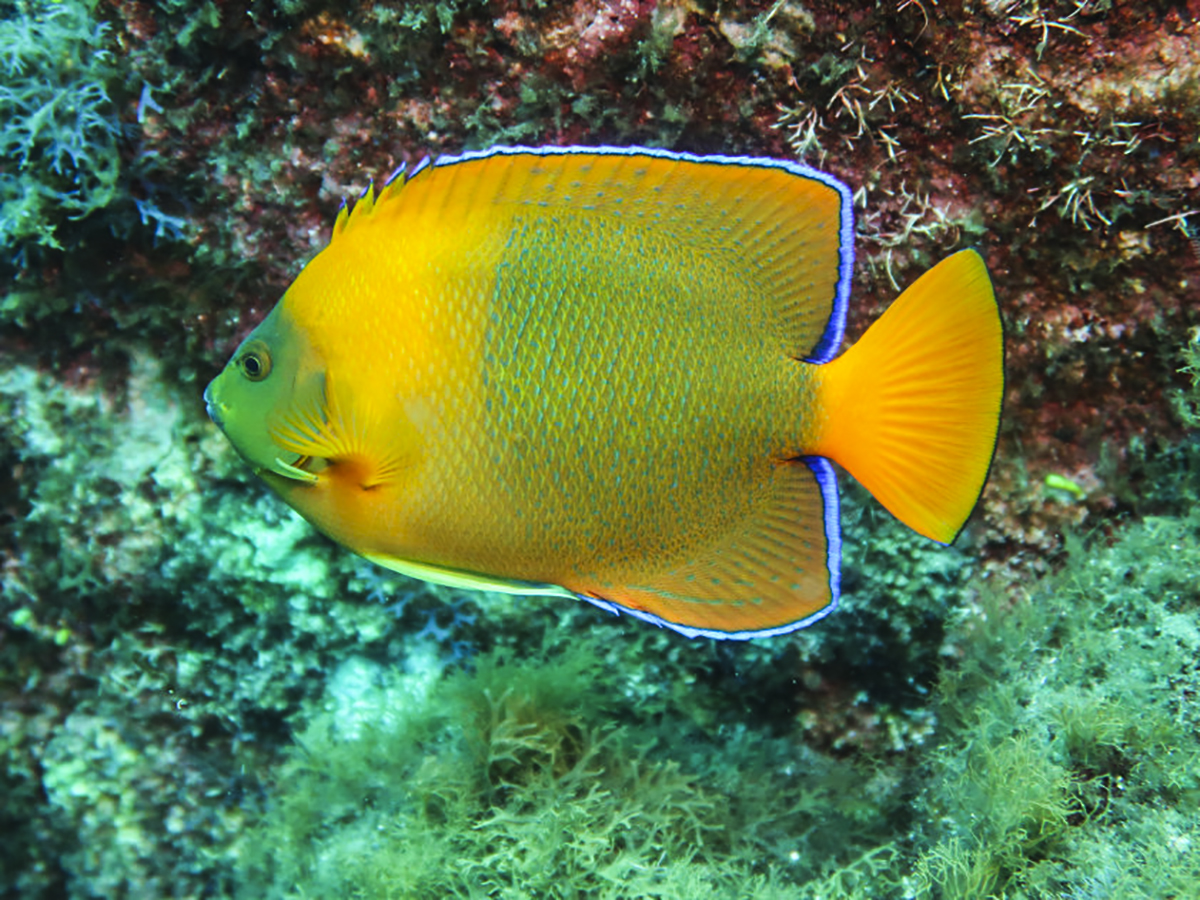 ---
We had the most exciting dives at Cabo Pearce today on almost every dive. Mantas, chevron and black, at least 5 at the same time. Around the two cleaning stations a pod of ten dolphins and an inquisitive hammerhead shark. Unbelievable!
–DM Ari, the Nautilus Explorer
---
One of our guests today reported that diving at Cabo Pearce was the best diving they had ever done. I have to say it is probably also my own personal best day ever in the water. The second dive of the day started by us having two giant mantas circling overhead, and just a few moments later two dolphins swam all around us and a Tiger shark cruised by in the distance. The mantas continued to bathe in our bubbles throughout the dive and a large Scalloped Hammerhead came in and out of view a number of times. Finally, on our safety stop, a big Galapagos shark circled just below us! WOW, what a dive, I've never had a day like this one at Cabo Pearce!
–DM Darrin, the Nautilus Belle Amie
---
Today at Cabo Pearce the diving was epic. My group was commenting that they missed meeting dolphins the day before and were hoping to see them. We jumped into the water at 60ft and coming straight for us were 2 dolphins who stayed for half a minute so close to us. Then mantas showed up, one black and one chevron, and they stayed for half the dive. We also saw a Hammerhead who looked at us with curiosity and you could see a school of them in the distance. We started to swim to the end of the finger of Cabo Pearce when the dolphins arrived and began to play and interact with us for a couple of minutes. It was a magic moment that all of our divers from the Nautilus Belle Amie experienced. You must be here to really feel the moment, it was so incredible.
–DM Pedro, the Nautilus Belle Amie