What a fantastic day here at Socorro Island! We got here from San Benedicto yesterday and came straight to Cabo Pearce for our dives and out night snorkel with silky sharks. The weather today was quite rough so we ended up staying here at Cabo Pearce for a second day and boy did it pay off! We had mantas and hammerheads on every dive. On the first dive of the day we saw a tiger shark casually cruising over the reef from a distance. On the second dive we had our best dive of the trip so far with 6 mantas and a pod of 12 dolphins coming and going to the dive site right over our heads and some very close encounters with both mantas and dolphins. On the third dive we saw 4 hammerheads together and they came quite close. Tomorrow we are going to Roca Partida to see what the smallest and most famous island in the archipelago has to offer!
–DM Casey, the Nautilus UnderSea
---
What a great way to spend New Years, on board the Nautilus UnderSea in the Revillagigedo Islands (AKA Socorro Islands). 18 guests, 20 dives, lots of Hammerheads, Dolphins, and of course, Mantas. What a great trip with visibility between 60 – 100 feet sometimes, water temperatures between 75 and 79°F. I have to confess, the highlight of the trip for many of us was definitely the morning dive on the last day at the Boiler in San Benedicto Island with a group of 15 to 20 dolphins. Definitely a great way to say hi to 2019!
–DM Ivan, the Nautilus UnderSea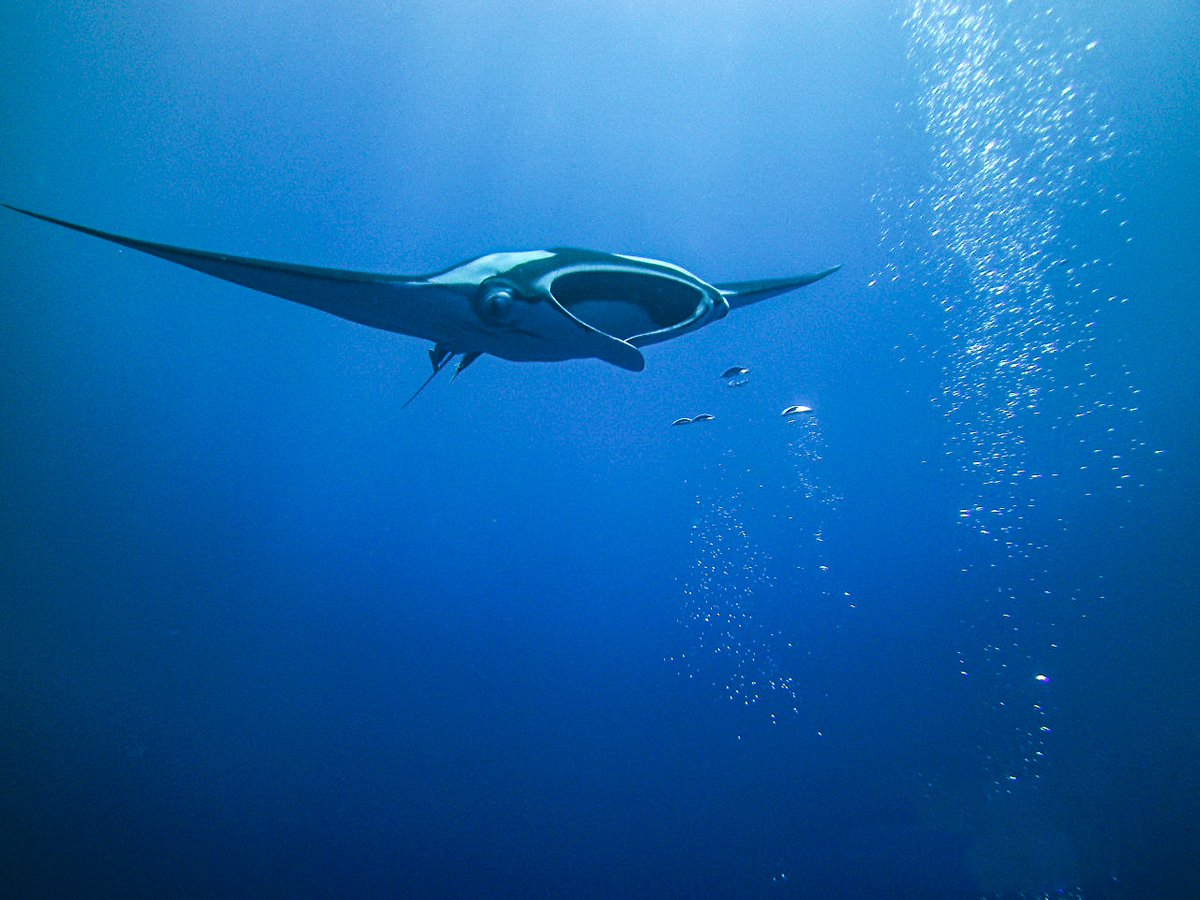 ---
Our last day of diving was a pretty special one. Always a bit sad when everyone knows it's the last day in the water, but maybe that makes every second down there that little bit extra special. We dove at El Canyon and Fondeadero with around 25m or more visibility-wise on each dive and water temp at 24°C, very mild current all day also.
At El Canyon we saw juvenile and sub-adult Silvertip Sharks at the cleaning station on each dive, up to 8 individuals at a time circling again and again sometimes well within touching distance. As long as we are settled down and were not in their way they are completely unfazed by our presence and will even become curious in us sometimes. Whilst getting cleaned as they need to naturally, to remove parasites and clean wounds in order to survive. Whilst we were watching these guys we had several Galapagos sharks swim past and even a couple of large Scalloped Hammerheads swam by. But the best was when a chevron Manta and on the next dive a huge black manta, swam straight up over us and the cleaning station just a metre or so above us and circled several times slowly before heading off! Not bad. As I swam towards shallower water we saw a 3.5m Tiger shark, my 3rd in this trip, and maybe number 6 in total for the week, woop woop, really awesome! We finished under our ship which was full of Big eye Trevally and several Silky sharks for our safety stop.
Between dives 3 and 4 a pod of about 20 False Killer whales swam past the island some about 30m away. We could also hear them on some of our dives. They are one of the largest species of Dolphin and an impressive 4m long! It made for a nice surface interval. The next two dives were at Fondeadero and the dives just kept being amazing we saw 4 mantas on one dive and one really played with each of us in turn over about 5 minutes looking right at us and saying hello to everyone before leaving only to return two minutes later with a buddy and do the same. At this time there was also a couple of large Galapagos sharks and an Oceanic Blacktip cruising low over the sand without seeming to move just perfectly streamlined predators in their natural habitat. At one moment on the last dive we were also surrounded by about 12 whitetips, 2 Galapagos sharks and even a larger Silvertip and they seemed very curious in a particular section of reef. Probably we had just missed the hunt. But amazing to see them all together anyway. As we were finishing the dive 1 Manta just cruised past us as if to say see you next time!
–DM Martyn, the Nautilus Belle Amie
---
The best check out dive ever! Here we are at San Benedicto Island, at the dive site called "El Canyon," ready for the first dive of out trip, just an easy dive to check our gear, cameras and weights. This is supposed to be the first contact of our guest with the water, just a short dive to warm up, but it was AWESOME!!
After we jumped in the water we saw our first shark, a silky shark coming next to us to check the new visitors, we went to the bottom and start swimming towards the rocks while we could hear dolphins singing, but when we turn around there were no dolphins in sight, after a couple of minutes we spotted a hammerhead shark, then two, three, then ten! A big school of hammerheads arrived and in that moment on the other side, a group of 6 dolphins appeared and we didn't know where to look!
The dive continued like that, watching dolphins, hammerheads and Galapagos sharks until we were getting low on air. Then as we were finishing the dive, we saw it: a Giant manta flying towards us! We played a bit with her and then came up to do our safety stop and all the way up we were surrounded by the manta and some more dolphins! What a great way to start a trip! I have to go to the water now, lets see what next dive bring us. That is all for now from Nautilus Explorer.
–DM Victor, the Nautilus Explorer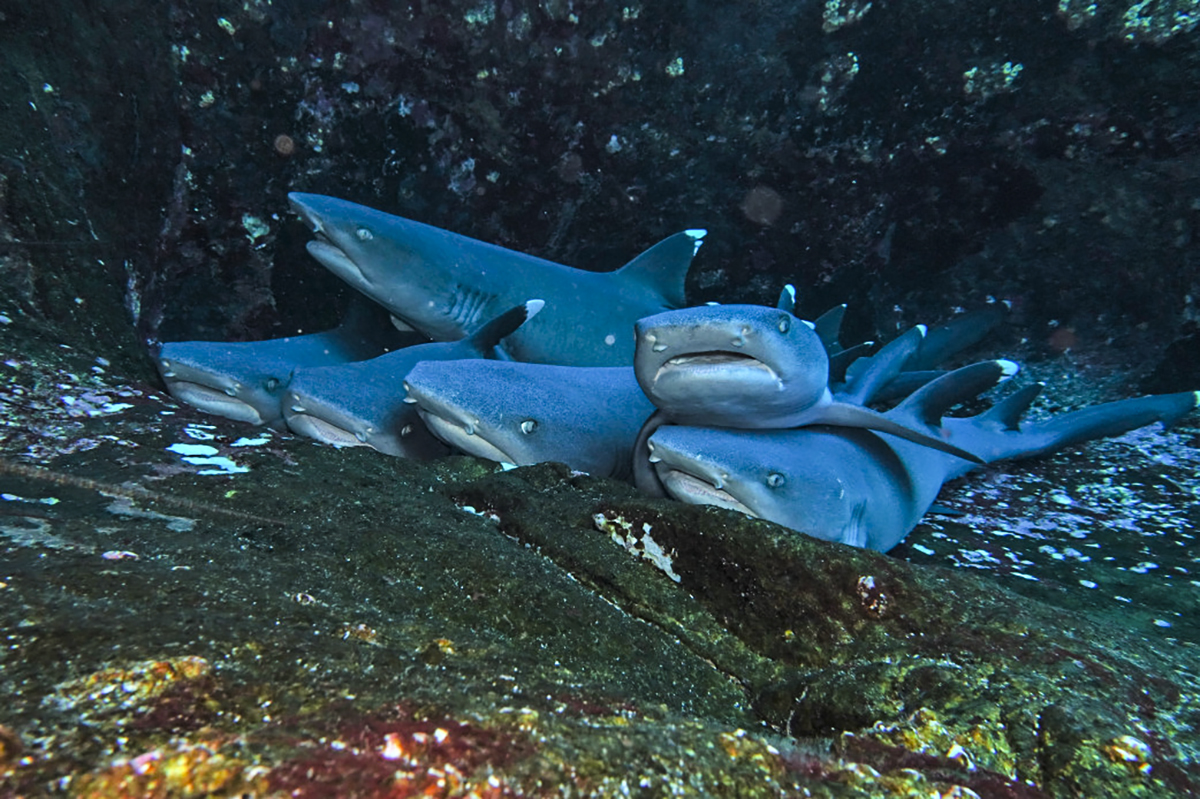 ---
The New Year started with a lot of action at San Benedicto Island. We just arrived to the island last night and this morning our guests enjoyed their first glimpse of the impressive volcano crater and lava flows reaching into the water. We're at El Canyon! As we jumped into the water, we were quickly awakened by colder than expected waters: a fresh 23°C. It seems the big fish loved it!! Less than 5 minutes into the dive we saw a 4  metre Tiger shark swimming towards us and then turning back toward the sandy bottoms, it's striped side clearly visible! What a treat!! And the rest of the dive continued with the same pace. Many Hammerheads were swimming inside El Canyon on this early morning and we even found some in the shallower water. A black manta swam by several times and we still have our resident family of silvertip sharks cruising around. This was truly an awesome start to the trip. Everyone is happy and well-fed by Chef Kike and excited to see what Socorro Island will offer us tomorrow!!
–DM Jessie, the Nautilus Explorer
---
Back on board, and back to Revillagigedo! When you have experienced something good you want more! When you see dolphins, hammerheads, Galapagos sharks, a tiger shark and mantas all on your check out dive… where else would you want to be? Conditions are great. Water temperature of 24°C, great visibility and wildlife in abundance. So happy to be back!
–DM Mirko, the Nautilus Explorer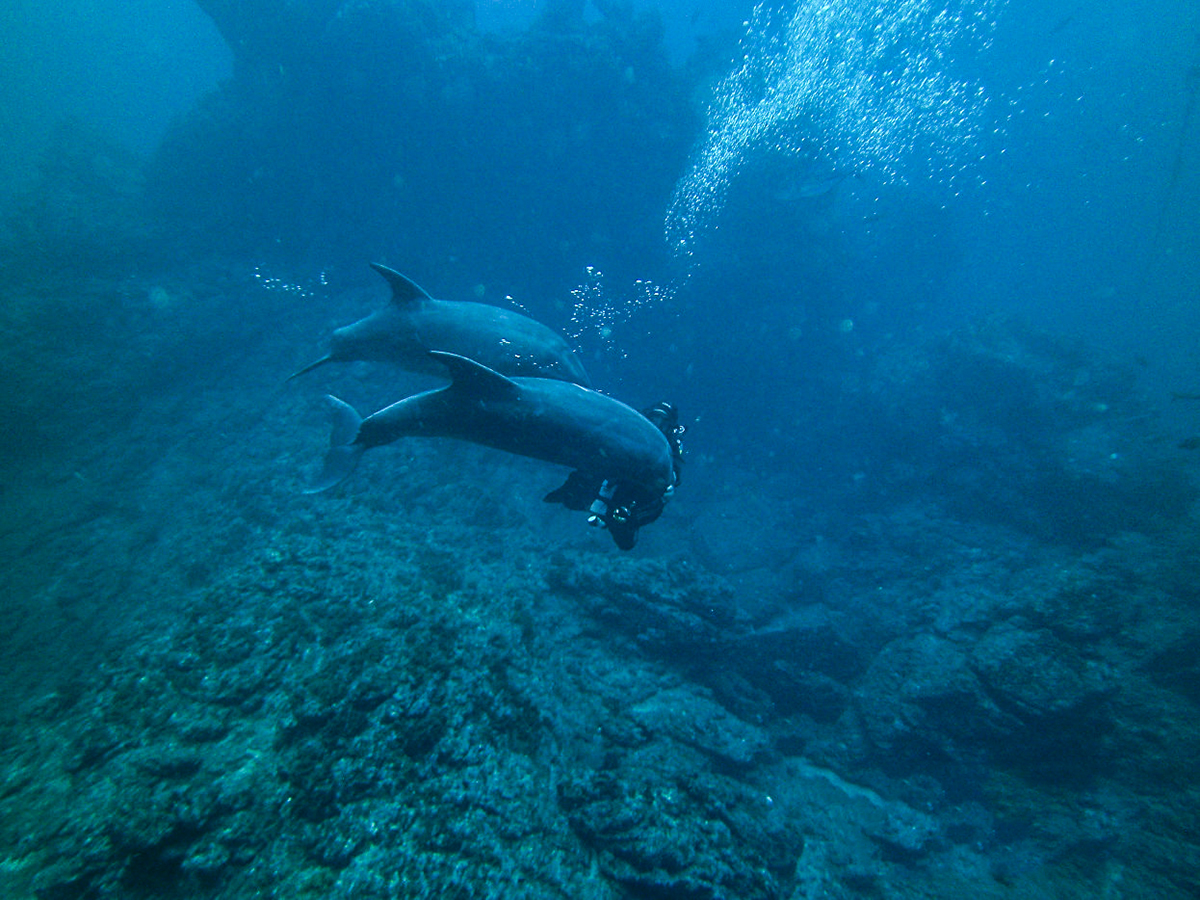 ---
I feel so lucky to be able to work in this wonderful place. Every day I have the opportunity to dive with some of the biggest and more exciting animals in the ocean. Some people are here because of the sharks, and we have them in many kinds and forms: Tiger, Galapagos, silky, dusky, Hammerhead, whitetip, silvertip and the biggest one of them all: the whale shark! Many others come here because of the famous giant mantas of Revillagigedo: nowhere else in the world you will interact with these gentle giants as you will do here, they will stay with the divers during all the dive, flying next to you, looking into your eye, floating over your head while they enjoy a bubble shower and you look at them thinking that this is the best day of your life as a diver!
I love to see all these animals in a daily basis, but my favorite animal in Revillagigedo is the dolphin! They are fast, they are intelligent, beautiful, curious and overall, playful. Yesterday I had one of the best memories of my life as a diver when a group of 11 dolphins came to check my group of divers, they were turning around, playing when a mother and a child came closer to the group and started to seek contact, the mother keep coming to everyone in the group and pushing her nose and her face against our bodies! it was a wonderful experience, I wanted to cry with joy! I made a new friend, I hope to see her again next week. This is all for now from the Nautilus Explorer.
–DM Victor, the Nautilus Explorer
---
So nice to back to be on board of Nautilus Explorer after Christmas time, and the activity around the island is been amazing. We have seen Black and Chevron Mantas, Hammerhead Sharks and Dolphins at all the dive sites we have dove, including El Canyon at San Benedicto Island, Cabo Pearce and Punta Tosca at Socorro Island, and, of course, Roca Partida. And the trip has not even finished yet because tomorrow we will be diving at the Boiler, where we hope we can see big pelagic animals again. The season so far has been so beautiful in all aspects, guests, crew, and of course, the ship, theNautilus Explorer. See you soon!
–DM Hector, the Nautilus Explorer