Today at Roca Partida we had an excellent day of diving. The water temperature was 77°F/25°C and the visibility around 60ft/20m. Today we saw one black manta and Galapagos, Silvertips, Hammerheads and Whitetip sharks, as well as some big pelagic fish like yellowfin tunas, wahoos and yellow tails. The highlight of the day was when our guests spotted a humpback whale. Whale season is here! Tonight we are heading to Socorro for another great day of diving tomorrow morning, on board the Nautilus UnderSea.
–DM Guillermo, the Nautilus UnderSea
---
Today we did 4 dives at the Boiler, my favorite dive site here in Revillagigedo Archipelago (actually my favorite dive site in the world because I never dove in a place quite like this). The Boiler didn't disappoint anybody today, during the 4 dives we had schools of more than 30 hammerheads, big Galapagos sharks, plenty of mantas turning around us and passing so close that you had to move so they didn't crash against you! In the first dive in the morning we even dove next to a group of 8 dolphins that came so close that my divers were taking selfies with them!
Everybody was happy today at the end of the last dive (as it usually happens after a day in the Boiler) and now we are enjoying dinner and resting because tomorrow we will be diving at Roca Partida, the most legendary dive site in Revillagigedo. I can't wait to see what is waiting for us there! This is all for now from the Nautilus Explorer, we will keep you updated with more adventures soon.
–DM Victor, the Nautilus Explorer
---
Coming back to dive at the Boiler in San Benedicto Island, it was so nice because we had an encounter with 2 big females mantas, and they were swimming around us and very close too! Everyone got to have eye contact with them and the guests loved it. You could tell how happy they were! This is diving in Revillagigedo; encounters with with pelagics, now let's go to Roca Partida and Socorro Island to see what we can see there!
–DM Hector, the Nautilus Belle Amie
---
We have just arrived at Roca Partida. The anchor is dropped and the sun is rising, illuminating the Rock. It looks to be a beautiful and sunny day!!
The last 2 days we were diving at San Benedicto Island on 3 different dive sites: El Canyon, The Boiler and Cuevitas. The water was about 24°C. On some morning dives we had about 10 meters visibility but it cleared up nicely for the afternoon dives to more than 20 meters. And with the amount of friendly mantas we are seeing at the moment we couldn't care less about the visibility!
At every site we have Black and Chevron Giant Mantas dancing for us!! Usually 3 to 4 at the same time and they are coming real close, gliding over and under divers enjoying the bubble bath!! We can also observe sometimes male mantas following the female ones in majestic courtship. Most of our divers come to Socorro for this incredible experience with our curious Giant Mantas as it's one of the only places in the world were they seem to want to swim amongst humans even following us into shallow water as we do our safety stops. We might see more mantas here today at Roca Partida, or Hammerheads and Galapagos Sharks, schooling Tuna or a Whale Shark. You never know at Roca!!
–DM Jessie, the Nautilus Explorer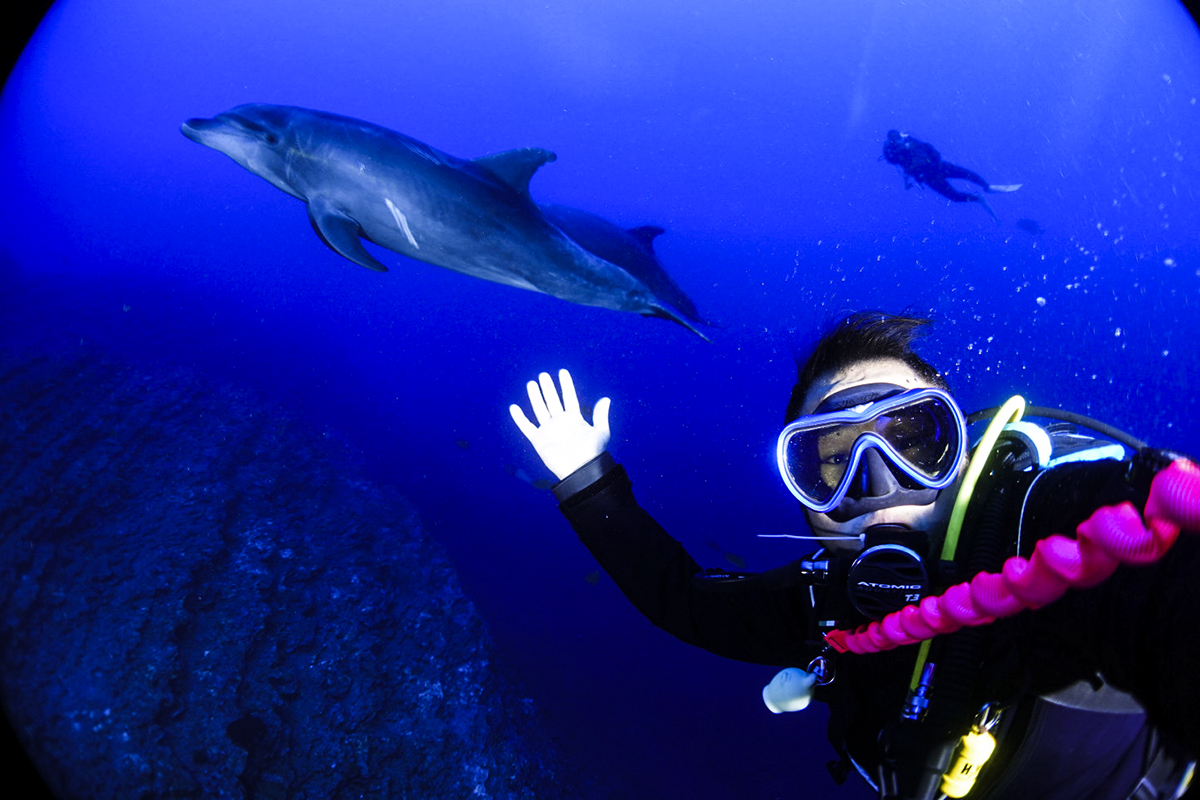 ---
Socorro Island report: mild current, some Hammerheads, a few Mantas and dolphins. The conditions make a decent, not too challenging dive, with good opportunities to spot some hammerheads and have a close encounter. Visibility is 65ft and water temperature is 77°F.
–DM Ivan, the Nautilus UnderSea
---
Today we have been diving at Cabo Pearce on Socorro Island. It feels quite different here this season; not all the dives last season were as good as every dive has been this season. The resident dolphin pod is directly competing with San Benedicto's pod and the interactions between divers and these beautiful creatures are getting better and closer! Wow! Hammerheads are also extremely abundant so far this season! Schools are often seen here at Cabo Pearce.
–DM Mirko, the Nautilus Explorer
---
After the last dive day of the trip, I can definitely say that all dives that we did on this trip were amazing. Our guests always have high expectations of Revillagigedo and this trip definitely met them! The average temperature was 25°C and visibility all around was between 15m to 30m. Currents were present this time in Cabo Pearce, the Boiler and el Canyon, which were the highlights of the trip.
Cabo Pearce gave us a nice enconarte with 4 Mantas in total, but one especially that stayed for 30 minutes with the divers playing around. El Canyon was incredible with the diversity including a school of hammerheads, a few juvenile silvertips, a couple of really big Galapagos sharks, some juvenile Dusky sharks, a few chevron mantas and 2 amazing tiger sharks. And finally the Boiler on the last day, what a way to end the trip! In just a single dive a whole pod of dolphins were playing around and 7 mantas, all at the same time. Divers after all this were sad because leaving the Archipelago, and they were wondering when to come back! It was beyond what most imagined!
–DM Rodolfo, the Nautilus UnderSea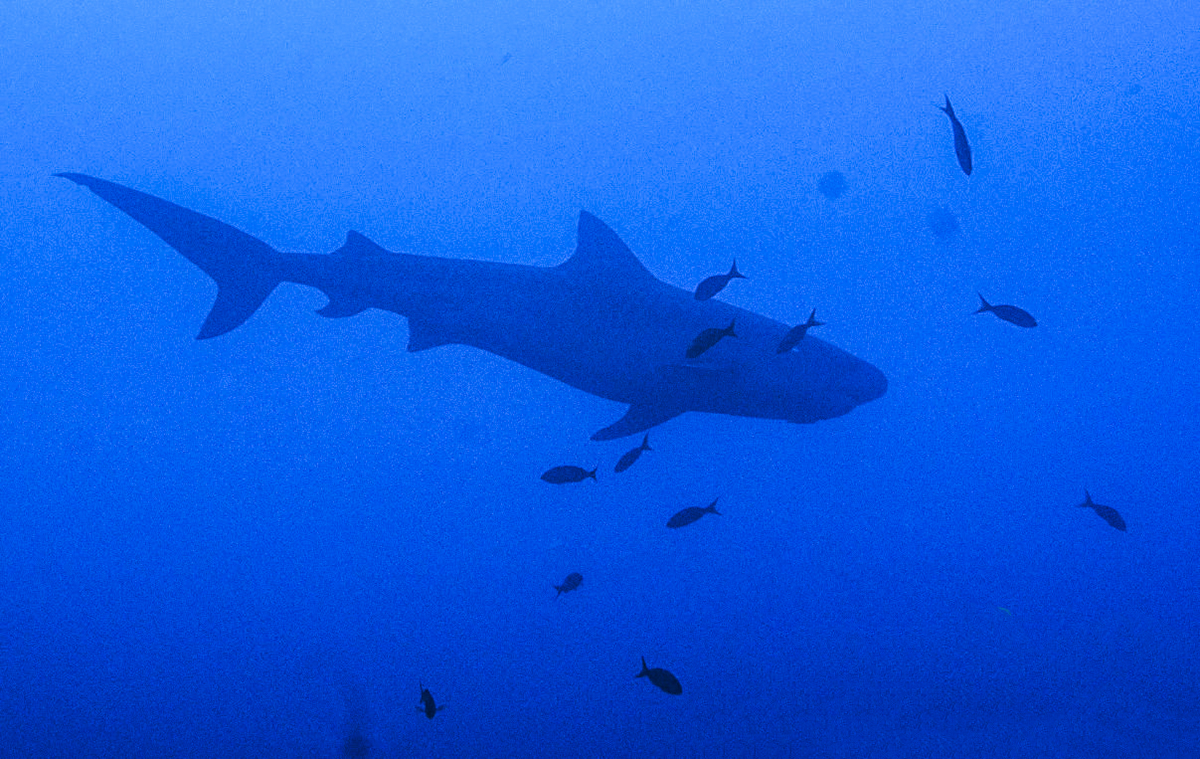 ---
It was a chilly Mexican winter morning at el Canyon for our first day of the trip. Such a nice group of divers from Michigan, USA, aboard the Nautilus Belle Amie, and the Giant Mantas didn't miss the chance to welcome them from the very beginning of the trip. Up to 8 extremely friendly and enthusiastic mantas circling around every diver, from very young black females to fully grown male chevrons. No matter where you swim, there is nowhere to hide, they follow your trail of bubbles and find you in a few minutes!! Very sharky as well, hammerheads in the blue and silvertips at the cleaning station, in good numbers, accompanied by a Galapagos shark every now and then, and great hunting activity by groups of adult whitetip reef sharks. Pretty good visibility, a warm 75°F and very mild current, not even the best aquarium could beat Socorro, that's for sure!! Don't believe me? Come and see it for yourself!
–DM Adrian, the Nautilus Belle Amie
---
First dive in the morning at the Boiler with numerous Giant Mantas and a Galapagos shark. The dolphins were all around, though they seemed to be minding their own fishy business. A couple of Mobula rays cruised by the west of the rock too. After breakfast it was time for a second dive, and what a surprise the dolphins came again, much more playful among the bubbles, up 6 mantas competing for attention and a silky shark too cruising among the divers. The afternoon we left for el Canyon as the conditions had deteriorated in the west. Visibility was not great but hey! The sharks were there on both dives, silvertips, Galapagos, and hammerheads did not mind the bubbles at all this time, and the gentle current made the reef frantic with action before the sunset.
–DM Xavier, the Nautilus Belle Amie
📷 by Divemaster Mirko